e-gifting platform and enabler
Industry: Consumer-tech
Site: www.4gift.com

Via Cavour, 7 – Milano
Prima società italiana investita da Ebay
€2 mln di capitale raccolto
Stage: Series B
4Gift is the first social platform dedicated to luxury-lifestyle e-gifting, a B2B white-label service that allows one to send gifts in a revolutionary and innovative manner from any brand's e-commerce website.
Send with 4gift
The integration of the "Send with 4Gift" option allows one to make gifts on the e-commerce platforms of partner brands, virtual places where one can transform their purchase into an emotional and real-time gifting experience, anywhere in the world.
One only needs to know the recipient's email address to send a single or a group gift. Once notified, recipients can customize the gift by altering the size, colour, or variant, or they can also directly change the gift according to their taste.
With its innovative user experience and strong partnerships with some of the world's biggest luxury fashion brands, 4Gift has attracted the interest of many potential investors for its first investment round, including the Californian giant eBay, which bought 10% of the platform in 2016.
Latest News
After the round with eBay, in December 2021, 4Gifters closed a Series A round that will allow it to speed up the scale-up process through the development of its technological infrastructure, commercial consolidation, and team expansion.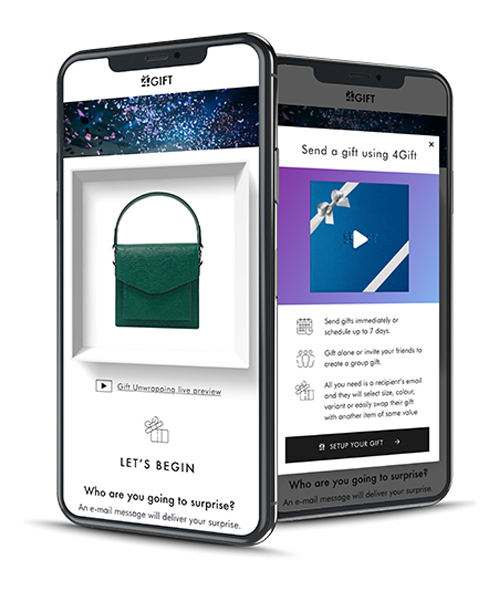 One Factory
has supported
4Gifters
in
evaluating the company
and in closing the deal that made 4Gifters the
first Italian startup
to receive
funding from eBay
. It further continued to support the company with
advisory activities
and through r
evision of its Business Plan
, making the plan a more effective tool in preparation
for the
next investment round
One Factory assisted 4Gifters in evaluating the company and in closing the deal that made 4Gifters the first Italian startup to receive funding from eBay. It further continued to support the company with advisory activities and through revision of its Business Plan, making the plan a more effective tool in preparation for the next investment round